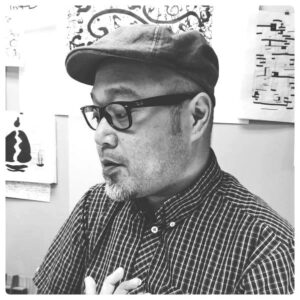 Sam Roxas-Chua is a poet and multi-disciplinary artist from Eugene, Oregon. He has been called a man who can take any kind of physical material and transform them into art, his writings have been called tidal, and Poet Dorianne Laux says, Like Jack Gilbert before him, Roxas-Chua reaches beyond the imagery and emotions we expect—creating his own universe, logic, and definitions of the beautiful.
His first book Fawn Language was published by Tebot Bach in 2013 and his current manuscript, Saying Your Name Three Times Underwater is forthcoming from Lithic Press. His poems have appeared in various journals including Narrative, december Magazine, Cream City Review, and basalt Magazine. His collection of poems, Diary of Collected Summers, won the first place award in the 7th Annual Missouri Review Audio Competition in poetry. Sam has received four Pushcart nominations and has been invited to read at local government events and for the Oregon State Legislature. He's appeared in numerous art & literature panels presenting his thoughts on the future of collaborative work between artists of all disciplines.
In addition to a second book of poetry due out in the Fall,  a collection of asemic writing/illustrations called Echolalia in Script will also be released by Orison Books.
Most recently he appeared in a live broadcast of Dear Sugar Radio at the Aladdin Theater in support of #writeourdemocracy/ #writersresist.
He is the owner of The Poetry Loft, a small business dedicated to community writing workshops. He holds an MFA from Pacific University.